Our Sustainability Policy
As the largest printing facility in Australia, we are very conscious that what we do impacts the planet we live on and have made sustainability a core value of our company. We are committed to make every effort before, during and after production to help minimise our environmental footprint.
The aim of our environmental policy is to implement environmental actions within the company, monitor the environmental actions and improvements internally and communicate environmental initiatives internally and externally.
Areas of focus
Waterless

To ensure we're preserving our earth's precious water sources, our Kornit DTG print machines produce zero wastewater using innovative inkjet technology across all of our personalised t-shirt printing services.

Reduce Waste

Our ability to provide on-demand custom tee shirt design in Brisbane means we're never producing more than we need. This allows us to conserve valuable resources and generate minimal waste.

Reduce energy/carbon footprint

Our technologies use a fraction of the energy used in traditional textile methods. This means we can deliver a majorly reduced carbon footprint while also providing the best service for you to create custom designs—allowing us to be eco-friendly and also provide an affordable t-shirt printing service.

Cleaner chemicals, safer products

Our water-based NeoPigment™ inks are free of heavy metals, formaldehyde, and Alkylphenol Ethoxylates (APE), making them non-hazardous, non-toxic, and eco-friendly so they're safe for you and our planet when you make your own shirt.
What happens to rejected garments?
We never like to see rejected garments going into the garbage so we have internal processes in place to donate, reuse or recycle the prints that don't make it past QC.
Our company has partnered with local charities and organisations to help clothe those that are in need of it. If you are from an organisation that may like to be notified of our collected garments, don't hesitate to get in touch with us!
To learn more about the brands we stock and their environmental and ethical practices, please head to their respective brand pages: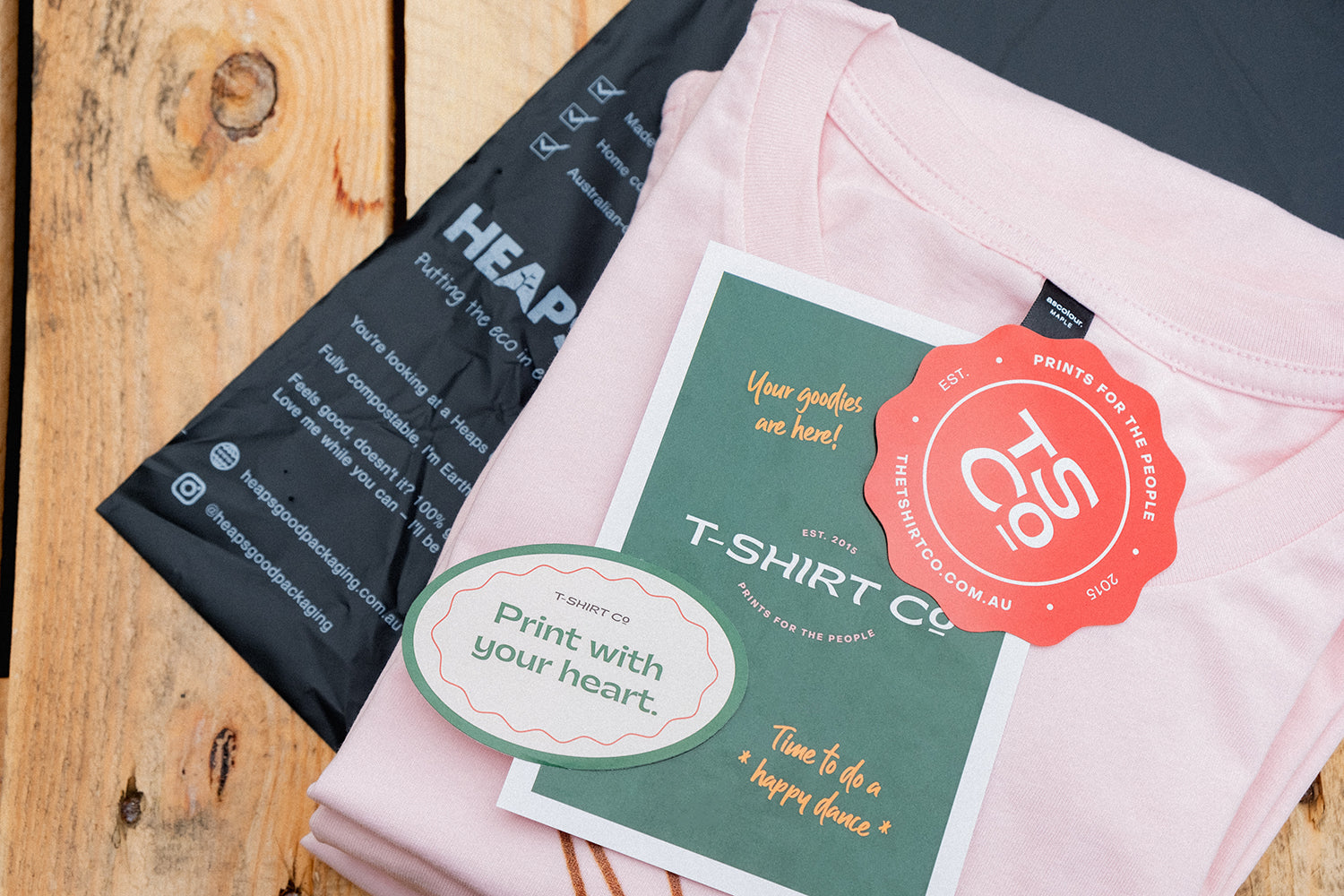 Customer Packaging
Your orders are carefully packed in compostable mailers with no plastic used or cardboard boxes for larger orders and packed with eco-tape. As for the stickers and care cards that arrive in your parcels, we use a local printing company that utilises soya based inks and technology that operates with a reduced power consumption all while producing an excellent level of quality.
Warehouse Packaging
We have reduced our use of plastic waste where possible using eco-friendly and biodegradable satchels, switching from bubble wrap to hex wrap and offering multiple garment packing options to reduce plastic use per order.